For many people, LASIK provides the final result they want – life without glasses. But sometimes LASIK doesn't work as effectively as you expected. If you have had a LASIK procedure, only to find that your results were not what you expected, you may need to think about additional treatments to fine-tune your vision. LASIK enhancement surgery can help improve your results so you enjoy the clear vision you were hoping for after the procedure.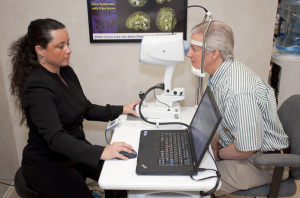 When is LASIK Enhancement Necessary?
LASIK is an effective procedure, but it tends to work best on younger patients with mild problems. People with older eyes or who have higher corrective lens prescriptions may not have the results they expect from LASIK, leading to the need for LASIK enhancement procedures. Also, people who are farsighted have a higher likelihood of needing enhancement.
However, it's important for LASIK patients to realize that their results will not be fully evident in the first few weeks after their surgeries. LASIK does require time to allow the eye to heal. So when is enhancement necessary? You are a good candidate for LASIK enhancement if you still have blurred vision three months after LASIK.
Options for LASIK Enhancement
If your doctor believes LASIK enhancement is necessary, you have two basic options. One is to have another procedure performed to try to correct your vision again with a slightly more invasive surgical technique. The other is to wear specially designed scleral contact lenses. Either one can provide good results, but the scleral contact lenses are the least invasive option and are ideal for those who want to avoid a second surgery.
Scleral contact lenses are large-diameter gas permeable lenses that cover the entire corneal surface and reside on the white of the eye. They are a great option for people dealing with corneal aberrations or irregular astigmatism or who have dry eye symptoms post LASIK surgery.
If you are dealing with blurred vision after LASIK surgery, talk to one of the doctors at Global Contact Lens Specialists about your options for LASIK enhancement. With scleral contact lenses, you can enjoy good vision after LASIK without the need for another surgery. Contact us today to learn more about your options and to decide which LASIK enhancement procedure is best for your needs.